Motorcycle, Boat & ATV Insurance
Ellijay residents enjoy an active outdoor lifestyle here in beautiful north Georgia, and the experienced professionals at Payne Insurance Agency are ready to assist you with insurance policies for your motorcycle, boat, personal watercraft, and all-terrain vehicle.
Motorcycles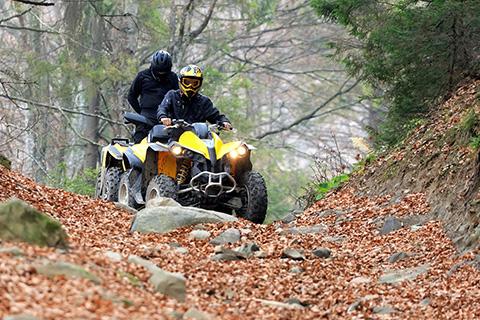 We know that motorcycle riders are passionate about their bikes. At Payne Insurance Agency, we are just as passionate about making sure you have adequate insurance coverage when you head out on the open road!
We are an independent insurance agency, so we have many options to choose from when finding the ideal motorcycle insurance for you. We can write you an affordable policy that may include bodily injury and property damage liability coverage, medical coverage, total loss protection, theft protection, custom parts and accessories, uninsured and underinsured motorist coverage and roadside assistance. Our carriers take a number of variables into consideration, such as the type and age of the motorcycle, and we will take the time to explain and find the best match for your vehicle. Ask us about discounts that are available to make your motorcycle insurance even more affordable!
Boats and Personal Watercraft
At Payne Insurance Agency, we are ready to help make your leisure time on the water as carefree as possible. Whether power boats, sailboats or personal watercraft "float your boat" we will provide the most affordable insurance that ensures you are covered in any water-related eventuality. We offer Liability coverage that protects you from suffering huge financial losses in the event you are found at fault in a boating accident and Uninsured watercraft coverage which helps with medical expenses in the event you are injured in an accident with an uninsured watercraft operator. Make sure your boat, personal effects and trailer are covered. Discounts are available for those with multi-policy discounts for their boat and automobile.
All-Terrain/Off Road Vehicles
There is absolutely no sense in heading off the road in an ATV without adequate insurance coverage. At Payne Insurance Agency, we will outline the options available to you. Some of the things we advise you on are that in the event of an accident where you are found to be at fault, liability coverage will cover injuries and property damage. Collision and comprehensive coverage, medical payments, uninsured or underinsured coverage and towing coverage are all vitally important to secure before heading out for some fun on a hard-riding ATV/Off Road Vehicle. Multi-policy discounts are available, or if you have taken safety courses that could qualify you for a discount. Let us tell you more!