Vacation Home Insurance for Blue Ridge, Dawsonville, Blairsville, Ellijay, Jasper, GA, and the Surrounding Areas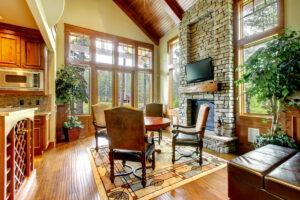 Owning a vacation home can be a reward for someone who has worked hard and is ready to fulfill their dreams of a higher quality of life. Our clients tell us about their dreams of family memories, relaxation time, and a possible spot for retirement. And our area is perfect for it. With all the small quaint towns, picturesque mountains, and quiet way of life, the areas of Blairsville, Dawsonville, Ellijay, Jasper, and Blue Ridge, GA are a perfect vacation home location.
Now, let's make sure your vacation has the protection it needs to fulfill all the plans and dreams you have. At Payne Insurance Agency, we look forward to helping you get the peace of mind that you are set with the vacation home insurance or second home insurance you need to protect your investment for years to come.
Protect your dream home, call 706-635-7555 today!
Home Insurance for Second Homes and Vacation Properties
We have helped North Georgia many residents with home insurance throughout the areas of Blairsville, Dawsonville, and Ellijay. And, we have worked as an independent insurance agent for the nearby areas of Jasper, GA, and Blue Ridge, GA. Now we are ready to help anyone who is looking for vacation home insurance whether they are local or just their vacation home is.
What vacation insurance can cover:
Liability – Personal injury to rental customers or guests
Contents and building – Both internal and external positions including small watercraft
Accidents and damage – From fire, lightning, strong storms, broken pipes, and more
Theft and vandalism – A concern for homes often left vacant
Vacation Home Insurance from a Local Independent Insurance Agent
Vacation home insurance can be very different from the homeowner's insurance you have on your primary home. For one, it can be more expensive. Because vacation homes can sit vacant for longer periods of time, they can be more susceptible to theft or damage that may go unnoticed longer than traditional residential homes. This is why a local independent insurance agent is the best way for you to find the right vacation or second home insurance at competitive rates. We will get to know everything about your vacation home and what you need. Then we go to work through many different carriers to find the insurance that matches your budget.
Here are some things we will discuss with you during our consultation:
Whether your current homeowner's insurance covers your vacation home or if you need additional coverage
What any mortgage lenders require for specific coverage in vacation home insurance
How your vacation home may influence the policy such as age, location, condition, and more
If you may use your vacation property as an income generator through renting
Call us today at 706-635-7555 or click here to get a quote!